Regenerative Medicine Foundation Proudly Presents The 2018 "Stem Cell and Regenerative Medicine Action Award" Honorees
The 13th World Stem Cell Summit Features a Gala Award Dinner In Miami, Florida on January 23, 2018 – Five deserving healthcare heroes have been selected for the Regenerative Medicine Foundation (RMF) 2018 Stem Cell and Regenerative Medicine Action Awards. For 13 years, the nonprofit organization has celebrated the stem cell and regenerative medicine community's top innovators, leaders, and champions. The honorees will be recognized at a gala reception and dinner on January 23rd during the 13th annual World Stem Cell Summit (WSCS) at the Hyatt Regency Miami in Miami, Florida, which takes place from January 22-26, 2018.
This year's Action Award honorees include a new venture dedicated to cancer detection, treatment, and care; a world leader in advancing the emerging field of regenerative medicine and game-changing cell therapy medical treatments; the president of a non-profit group focused on developing cures for chronic, debilitating and fatal diseases; a sickle cell and stem cell advocate and founder/science administrator of the Axis Advocacy; and the founding director of the Institute for Integrated Cell-Material Sciences (iCeMS) at Japan's Kyoto University. All five of these distinguished public figures have devoted themselves to improving health and developing cures by accelerating stem cell and regenerative medicine.
The 13th Annual Stem Cell & Regenerative Medicine Action Awards Dinner
7:00-8:00 pm- Pre-Awards Reception
8:00-10:00 pm Dinner & Awards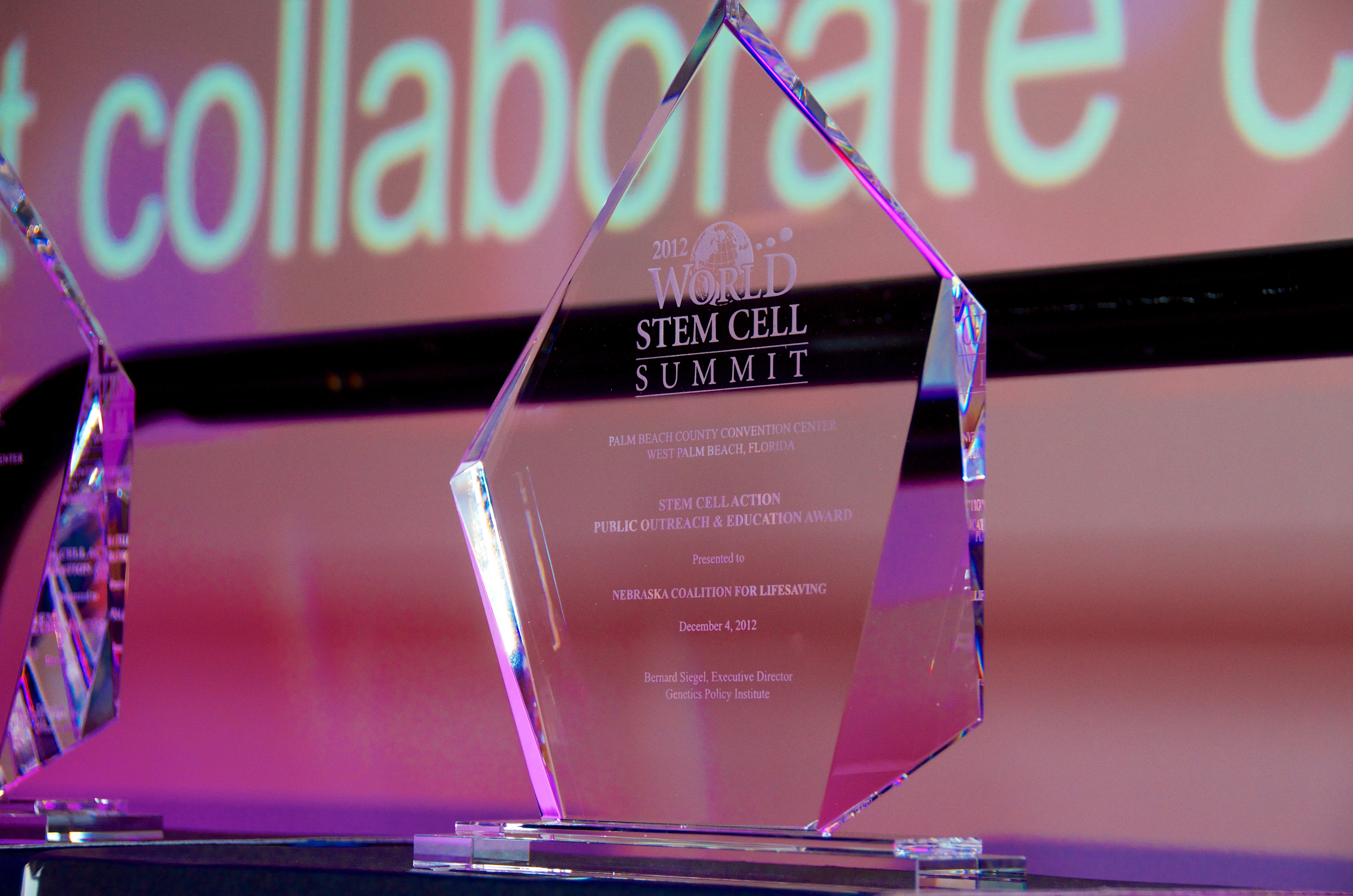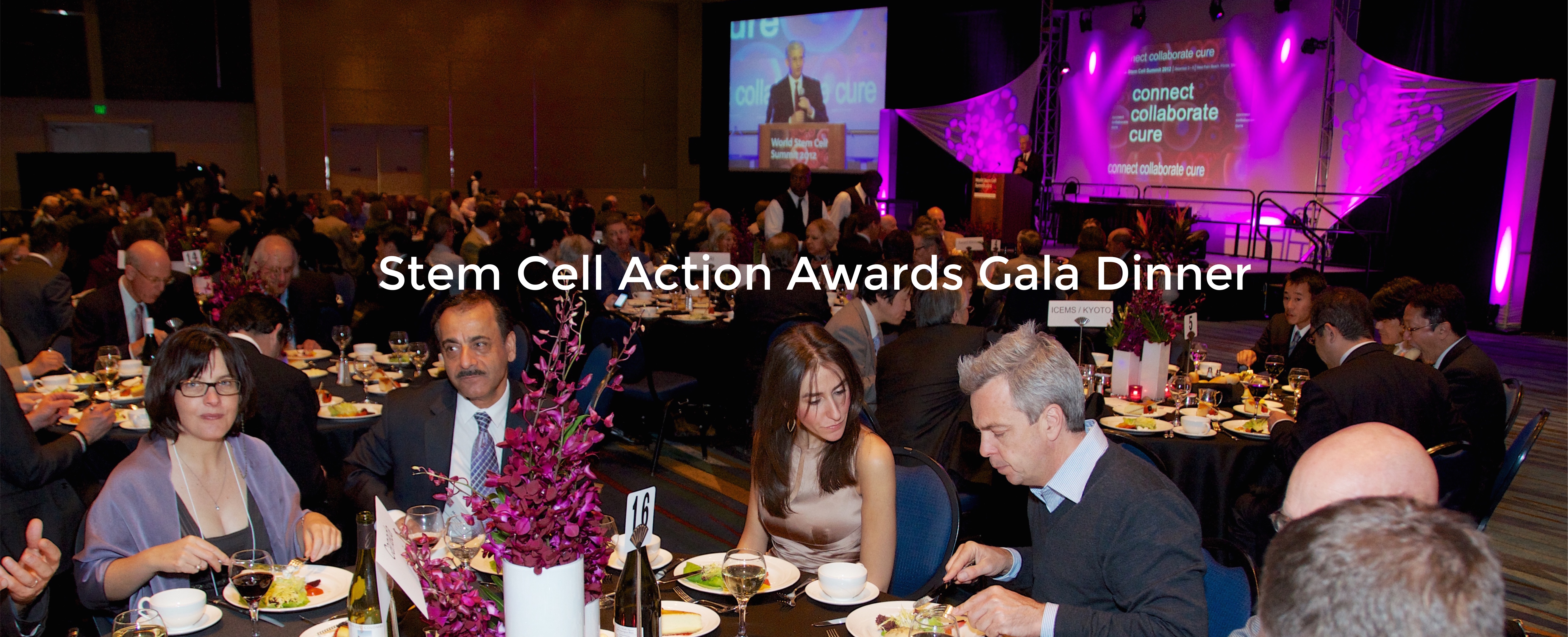 To learn more about special recognition and sponsorship opportunities for companies and organizations contact us today at 1-888-238-1423 or email Bernard@regmedfoundation.org 
The 2018 Stem Cell Action Award Honorees Are:
Advocacy Award: Vice President Joe Biden and Dr. Jill Biden.
Vice President Joe Biden and Dr. Jill Biden have demonstrated their leadership in and commitment to improving cancer research and care by injecting a sense of urgency and reimagining how the government, academia, non-profits, and the private sector can better organize their resources and systems. Vice President Biden's leadership of the national "Cancer Moonshot" effort dramatically advanced efforts to prevent, diagnose, and treat cancer. The Cancer Moonshot launched a series of coordinated efforts that incentivized bold, creative, and disruptive approaches to conducting cancer research, promoting prevention, and addressing critical needs in cancer care. In addition to driving this progress in both the public and private sectors, Vice President Biden also helped lead the effort to pass the 21st Century Cures Act that provides $1.8 billion over seven years for the Cancer Moonshot's scientific priorities.
Building on the progress made under the Cancer Moonshot, Vice President and Dr. Biden launched the Biden Cancer Initiative in the Summer of 2017. The Biden Cancer Initiative is dedicated to developing and driving the implementation of solutions to accelerate progress in cancer prevention, detection, diagnosis, research, and care, and to reducing disparities in cancer outcomes.
Leadership Award: Ed Bosarge – Dr. W. E. "Ed" Bosarge is an acknowledged world leader in the emerging field of regenerative medicine. His passionate commitment to advancing biotechnology innovations has resulted in game-changing treatments for orthopedic conditions, cardiovascular diseases, neurological disorders, cancer, diabetes and other chronic conditions. As Chairman and Founder of Black Beret Life Sciences, Dr. Bosarge maintains an international focus on accelerating the development and clinical introduction of cutting edge regenerative medical, adult stem cell and immunotherapy treatments. In an effort to bring scientific discovery and medical innovation back to the forefront of clinical practice in the US, Dr. Bosarge recently spearheaded a federal legislative initiative supporting the FDA's leadership to advance approval of safe and effective cell-based therapies which would allow Americans with debilitating or life-threatening diseases expedited access to new potentially life-changing or life-saving treatments.
Advocacy Award: Shelley Ross and the Cure Alliance – Shelley Ross is President of The Cure Alliance, a non-profit group of top scientists, researchers, medical doctors and innovators, plus those who support their efforts to end suffering by developing cures for chronic, debilitating and fatal diseases. Their #1 goal is to help accelerate the movement of potential cures from the laboratory to the bedside. To that effort, they raise public awareness and make noise when necessary. In her position at The Cure Alliance, Ms. Ross calls on her experience as a three-time Emmy Award-winning executive producer who changed the landscape of morning, primetime and late-night television. She is best known for her 17 years at ABC News where she won three news and documentary Emmy awards, a Peabody award, and other honors. CBS has recently announced the development of a dramatic series based on her early years as a journalist.  A natural story-teller, she presented the FDA with her dramatic first-person narrative of healing through regenerative medicine after conventional medicine had failed. Then she implored them not to unnecessarily restrict treatments for others. She also contributes to CellR4, the official journal of The Cure Alliance with Dr. Camillo Ricordi of the Cell Transplant Center and Diabetes Research Institute, University of Miami, editor-in-chief and founder.
Inspiration Award: Adrienne Bell-Cors Shapiro — A Sickle Cell Disease and stem cell Patient Advocate, the Founder and Science Administrator of the Axis Advocacy Sickle Cell Disease website, Ms. Shapiro is the fourth generation of mothers in her family to have a child born with Sickle Cell Disease. She was one of the first supporters of the work done by UCLA'S Dr. Don Kohn in bone marrow and later stem cell transplants. As a firm believer that stem cell science will cure Sickle Cell Disease, she has dedicated a large portion of her life to improving the lives and overall healthcare of those living with the disease. In the past three years Ms. Shapiro has found her voice as a stem cell activist, speaking at multiple forums in support of the funding for clinical trails through the California Institute for Regenerative Medicine(CIRM) and her role as an ambassador for the Americans for Cures Foundation. Her experience includes attending educational conferences and seminars, as well as meeting with lawmakers to promote support for the Sickle Cell Education Act.
International Leadership: Norio Nakatsuji – Professor Nakatsuji is the Founding Director of the Institute for Integrated Cell-Material Sciences (iCeMS) at Kyoto University in Japan, an institute which advances cross-disciplinary research and technological innovation based on cell biology, chemistry and physics. He is focused at making the best use of human pluripotent stem cells, including ES and iPS cells, for drug discovery and cell therapy by multidisciplinary R&D. He is part of the pioneering groups which established human ES cell lines and distributed them to other scientists free of charge. He is also a scientific founder of a start-up company, ReproCELL, Inc., which accomplished a successful IPO in 2013. Moreover, he has been taking leadership of several Japanese government-supported stem cell R&D collaboration projects between industry and academia. Professor Nakatsuji has been at the forefront of cutting edge work done in Japan, which is a great global collaborative hub for stem cell research and regenerative medicine whose regenerative market is growing exponentially. Japanese companies are investing in advanced therapies around the globe. He is a valued advocate and philanthropist and recently founded and funded, the Nakatsuji Foresight Foundation dedicated to support the next generation students and scientists by advancing programs relating to education, science and technology.
 Previous Honorees
2016 Stem Cell Action Award Honorees

Leadership Award: Bernie Marcus
Stem cell and regenerative medicine benefactor, Bernie Marcus, is a recipient of a "Leadership" award for his visionary strategic philanthropy. The co-founder and former CEO of The Home Depot, he has provided grants through the Marcus Foundation, to fund the new Georgia Tech Marcus Center for Therapeutic Cell Characterization and Manufacturing (MC3M), as well as clinical stem cell trials and research in the treatment of autism, stroke and cerebral palsy at Duke, asthma and lung disease at the University of Miami and Case Western Reserve, neonatal heart disease at Emory and Children's Hospital of Atlanta, and cancer cellular therapy trials at City of Hope, Penn, Miami and MD Anderson. The Marcus Foundation has also created centers of excellence in Autism, Stroke, Trauma, Emergency Medicine, Integrative Health, Neuroscience, and Heart disease in Atlanta, Philadelphia, and Boca Raton.
Leadership Award: Don Soffer
A celebrated Florida real estate developer Don Soffer is the creator of the thriving Aventura community. Under his stewardship, the Soffer family provided a transformative $25 million gift to the Interdisciplinary Stem Cell Institute (ISCI) at the University of Miami Miller School of Medicine. The contribution has boosted ISCI into the highest orbit of translational regenerative medicine.
Advocacy Award: Camillo Ricordi, M.D.
Dr. Ricordi is the director of the Diabetes Research Institute and Cell Transplant Program at the University of Miami Miller School of Medicine. Acknowledged as one of the world's leading scientists in diabetes cure-focused research and cell transplantation, Dr. Ricordi has author over 1,000 scientific publications. He has been awarded 25 patents including the automated method and Ricordi Chamber used to obtain large numbers of insulin producing cells from the human pancreas. The technology was used in the first successful islet cell transplants and is still used worldwide for clinical islet transplantation. He is currently working on immunomodulation and stem cell strategies to reverse autoimmunity, and on biologic replacement platform technologies BioHUB for the cure of diabetes without the need for anti-rejection drugs. Dr. Ricordi has also devoted himself to supporting the cause of stem cell research. He is a founding member of the science advisory board of Regenerative Medicine Foundation and in 2004 he spoke at the organization's seminal meeting at the United Nations headquarters. He founded and served as the first president of The Cure Alliance, an important advocacy nonprofit organization whose primary goal is to promote collaborative efforts and help accelerate potential cures from the laboratory to the bedside.
Inspiration Award: Sandy Barker and The Gold Rush Cure Foundation
Sandy Barker and her husband Gary founded Gold Rush Cure Foundation in memory of their beloved son, Christian Gordon Barker. Besides supporting children battling cancer via their "Pot of Gold" program, the foundation commits itself to advocating both locally and nationally for increased awareness and research funding for childhood cancer. Sandy will be making her 20th advocacy trip in February 2017. She has distinguished herself as a key spokesperson and advocate supporting an accelerated regulatory pathway for regenerative cellular therapies. Sandy sees the vital need for improvement in this area as she mentorsnumerous families affected by childhood cancer.
2015 STEM CELL ACTION AWARD HONOREES

Leadership Award: Robert M. Nerem, PhD
Bob has a long and distinguished career in engineering for medicine. A giant in the field of cellular and tissue engineering, Bob began at Georgia Tech in 1987 as a Professor and Parker H. Petit Distinguished Chair for Engineering in Medicine. He is the founder of the Georgia Tech/Emory Center for the Engineering of Living Tissues which has evolved into the Center for Regenerative Engineering and Medicine (REM), a joint collaboration between Emory University, Georgia Tech, and The University of Georgia, with a mission to fundamentally transform the treatment of human diseases and injuries through the development and translation of new technologies that enhance the body's ability to heal itself. The integration of engineering technologies, biological discoveries, clinical expertise and infrastructure will establish Georgia as a national leader in regenerative clinical therapies.

Education Award: Ann Murphy, PhD
Ann co-founded AlphaMed Press in 1983 and launched STEM CELLS, the first journal devoted entirely to the subject. With offices in Durham, NC, San Francisco, CA, and Belfast, NI, Ann publishes and is the managing editor of two other international peer-reviewed journals with globally recognized editorial boards dedicated to advancing research and education in their focused disciplines: The Oncologist and STEM CELLS Translational Medicine (the official journal partner of the Regenerative Medicine Foundation). In 2000, Ann co-founded the Society for Translational Oncology to fill the gap between discovery of new cancer treatments and their global translation into oncology practice. The Oncologist is its official journal.

Advocacy Award: Tory Williams & the Alabama Institute of Medicine
Born and raised in the small town of Millry, Alabama, Tory Williams is a proud mother or 4. She co-founded with Roman Reed the nonprofit Alabama Institute of Medicine (AIM). She played a leadership role in the passage of the TJ Atchison Spinal Cord Injury Act, also known as "TJ's Law" which provided over $800,000 in funding for spinal cord injury in Alabama. Even while battling polycystic kidney disease (PKD), Tory found time and strength to author a compelling book, Inevitable Collision- The Inspiring Story That Brought Stem Cell Research to Conservative America.

Advocacy Award: Jeanne Loring, PhD
Jeanne is Professor and founding Director of the Center for Regenerative Medicine at The Scripps Research Institute. She is a bold and outspoken advocate, educator and gifted scientist. Her research team studies genomics and epigenomics of hESCs and iPSCs. As part of the "Frozen Zoo" project, her lab generated the first reprogrammed cells from endangered species. Her translational projects include stem cell applications for Parkinson's disease, multiple sclerosis, autism, Alzheimer disease, and addiction. Under her guidance, her lab is creating collections of cell lines for disease modeling and ethnicity-associated drug toxicity studies. Jeanne is also involved in the societal issues associated with stem cell research, including the ethics of stem cell generation and clinical use, the legal implications of stem cell patents, and educating the public about the dangers of unregulated stem cell treatments. She has served on the ethics boards of Merck KGaA and the Bill and Melinda Gates Foundation and is a long-standing member of the GPI Science Advisory Board.

Inspiration Award: CURE CP
Cerebral palsy (CP) is a broad term used to describe a group of chronic "palsies" — disorders that impair control of movement due to damage to the developing brain. CP is one of the most common causes of chronic childhood disability, affecting 1 in 323 children (second only to autism). Cure CP, a nonprofit organization, undertakes and supports initiatives at leading, American research institutions developing therapeutic methodologies for the treatment of CP. Through passionate, grassroots advocacy and fundraising, Cure CP undertakes and supports forward-thinking research, including current, ongoing clinical trials at Duke University School of Medicine and UTHealth. Founded by two Atlanta-based families with children affected by CP, Cure CP and its dedicated volunteers seek a better life and future for children and adults with cerebral palsy.
2014 STEM CELL ACTION AWARD HONOREES

Leadership Award: Henry Cisneros
Henry Cisneros' recent accomplishments in the development of the San Antonio biosciences community are the latest chapter in an extraordinary life in politics, service, business, and advocacy. In 1981, he was elected mayor of San Antonio, becoming the first Hispanic-American mayor of a major U.S. city. In 1992, President Clinton appointed Mr. Cisneros Secretary of the U.S. Department of Housing and Urban Development. In the following years, Mr. Cisneros was president and chief operating officer of Univision Communications, served as president of the National League of Cities and as deputy chair of the Federal Reserve Bank of Dallas. He is the author and editor of several books. He is currently a member of the advisory boards of the Bill and Melinda Gates Foundation and the Broad Foundation and is an officer of Habitat for Humanity International. Today he is Chairman of the CityView companies, working with urban homebuilders to create homes priced within the range of average families. In his work as Chairman of BioMed SA, an organization working to accelerate San Antonio's health care and biosciences sector, Mr. Cisneros is a champion of research and innovation.
Hero Award: William R. Brinkley
Dr. William R. Brinkley is an internationally acclaimed cell  biologist who has made significant contributions to the field. He is Dean Emeritus of the Graduate School of Biomedical Sciences and a distinguished service professor in the department of molecular and cellular biology at Baylor College of Medicine. This year, he was honored with a E.B. Wilson Medal, the highest scientific honor of the American Society for Cell Biology. He is a member of the Institute of Medicine, a former president of the American Society for Cell Biology, the International Federation for Cell biology, and the Federation of American Societies for Experimental Biology, and the recipient of many awards. A well-known scientist statesman, he has testified before the U.S. Congress and the Texas Legislature in favor of funding for science as well as in defense of scientific freedom and integrity.

International Leadership: Japanese Society for Regenerative Medicine (JSRM)
Japanese Society for Regenerative Medicine has made incredible strides in developing regenerative technology to advance medical research and contribute to human health. JSRM gathers knowledge from different fields to encourage cutting-edge, creative approaches and groundbreaking research. In 2012, JSRM's director, Professor Shinya Yamanaka, was awarded the Nobel Prize in Physiology or Medicine. JSRM is campaigning for the relaxation of Japanese government regulations concerning studies, clinical trials, and clinical applications related to regenerative medicine. As a result, new laws, including the Act for the Promotion of Regenerative Medicine, Revised Japanese Pharmaceutical Law, and Act to Ensure Safety in Regenerative Medicine, were approved in 2013. The first clinical trial using iPS cells on human cells is scheduled to start this autumn in Japan. JSRM is part of the reason that Japan is at the forefront of stem cell science.
Education Award: Texans for Stem Cell Research
The volunteer-led Texans for Stem Cell Research (TSCR) is creating a stronger environment for new research and hope by educating the people of Texas and their policymakers on the promise of stem cell research and therapies, so those suffering from chronic diseases or terminal illnesses will enjoy healthier lives. TSCR is an energetic fundraiser of FDA approved clinical trials, raising tens of thousands of dollars and bringing positive attention to stem cell research. They host public events and research symposiums uniting Texas's world-class scientists and clinical researchers across institutions.
Advocacy Award: Mostyn Foundation
 For more than 50 years as an independent grant maker, Mostyn Foundation has invested in causes with a deep-seated commitment to improving the human condition. Mostyn Foundation is a long-standing partner with Genetics Policy Institute in the advancement of the pro-cures movement.
Inspiration Award: Huntington's Disease (HD) Advocacy Community
For the first time, GPI is awarding a Stem Cell Action Award to a grassroots network of groups and individuals. Huntington's disease is a genetic neurodegenerative and fatal brain disease. The HD Community includes some of the most tireless, passionate, and effective advocates for stem cell research and regenerative medicine. Each child born to a parent with HD has a 50/50 chance of inheriting the same fate, so the HD community has watched this disease devastate generation after generation of their families. Today, advocates are fighting for their children and grandchildren, pushing for regenerative medicine trials in order to bring about treatments, therapies, and a cure in the future. A national grassroots network of organizations including Help 4 HD International, the Joseph P. Roberson Foundation and HD CARE is building momentum and support for new, promising research.
2013 STEM CELL ACTION AWARD HONOREES
Leadership Award: Denny Sanford
Denny Sanford has focused his philanthropic endeavors on health care and medical research. His total giving now totals more than $850 million. In 1986, Mr. Sanford purchased United National Corporation in Sioux Falls, South Dakota (now First Premier Bank) and expanded it, along with a new credit card company, Premier Bankcard. Today, he supports research programs across the U.S. including Sanford Children's Hospital in Sioux Falls; T. Denny Sanford Mayo Clinic Pediatric Center in Rochester, MN; and the T. Denny Sanford Pediatric Center at Florida Hospital for Children. He also donated funds to the University of South Dakota Sanford School of Medicine. In California, he supports Sanford-Burnham Medical Research Institute, the Sanford Consortium for Regenerative Medicine, the Salk Institute, and the Children's Hospital of Los Angeles.
Leadership Award: Malin Burnham
A dedicated philanthropist, Malin Burnham has chaired major non-profits, co-founded organizations and serves as Board Member of Sanford-Burnham Medical Research Institute and Chair of the Sanford Consortium for Regenerative Medicine, among many other appointments. Chairman of John Burnham & Company Insurance and Burnham Real Estate since 1949, Mr. Burnham is a native San Diegan who graduated from Stanford University in 1949 with a B.S. in Industrial Engineering. Burnham Real Estate was acquired by Cushman & Wakefield in 2008. He has been active as a board member of several major corporations and 16 firms. Mr. Burnham also served as Trustee of Stanford University for 10 years.
National Advocacy Award: Dr. Paul Knoepfler
Dr. Paul Knoepfler is an Associate Professor in Cell Biology and Human Anatomy at the UC Davis School of Medicine. He leads the Cancer Stem Cell Initiative at the UC Davis Comprehensive Cancer Center and is a member of the UC Davis Institute for Regenerative Cures. Dr. Knoepfler is also an Associate Investigator of the Institute for Pediatric Regenerative Medicine at Shriners Hospital of Northern California. As a cancer survivor, he advocates for cancer patients and those interested in stem cell treatments. His stem cell blog, ipscell.org, is a public education and patient advocacy tool read by a diverse cross-section of the stem cell community. His outreach efforts include offering a stem cell white paper in 28 languages. His book, Stem Cells: An Insider's Guide, will be published this year. Dr. Knoepfler received a B.A. in English Literature from Reed College and his Ph.D. from UCSD School of Medicine in Molecular Pathology.
Education Award: Mary Ann Liebert
Mary Ann Liebert is the president and CEO of Mary Ann Liebert, Inc., a media empire known for establishing authoritative peer-reviewed journals in promising areas of science and biomedical research. Its biotechnology trade magazine, Genetic Engineering & Biotechnology News (GEN) debuted in 1980, was the first in its field and is the industry's most widely read publication worldwide today. Stem Cells and Development is an authoritative peer-reviewed journal dedicated to developments in the biology, characteristics, and therapeutic utility of stem cells. Many of the journals she publishes intersect the field of regenerative medicine, contributing to the scholarship and advancing stem cell science. Ms. Liebert is also the founder and executive vice president of the Rosalind Franklin Society, which recognizes and advances important contributions made by women in the life sciences.
Inspiration Award: Roman Reed
Roman Reed has been the inspirational guiding force for raising over $100 million dollars for stem cell and neurological research. President of the Roman Reed Foundation, Roman was paralyzed playing college football in 1994. He has been fighting to advance awareness and research ever since. Mr. Reed, along with his father, Don Reed, created the Roman Reed Spinal Cord Injury Research Act, which established California state funding for research for a spinal cord injury paralysis cure. "Roman's Law" funded early human embryonic stem cell (hESC) clinical trials and raised $14 million in its first 10 years, creating several scientific breakthroughs. California's "Roman's Law" was so successful, it has now become a model for other states. Mr. Reed was instrumental in creating and passing the TJ Atchison Spinal Cord Injury Research Act in Alabama, which generates funding for research at the University of Alabama at Birmingham. Mr. Reed is involved with many public and private partnerships, including the Roman Reed Core Laboratory at UC Reeve-Irvine Research Center and The Stanford Partnership for Spinal Cord Injury and Repair. Mr. Reed has a BA in American Studies with an emphasis on Politics and Leadership from the University of California, Berkeley.
2012 STEM CELL ACTION AWARD HONOREES
Leadership Award: Susan Solomon
Susan Solomon is the co-founder and CEO of The New York Stem Cell Foundation (NYSCF), which was established in 2005 to accelerate cures through stem cell research. Under her leadership, NYSCF is supporting over 100 leading researchers at top laboratories around the world including NYSCF's own laboratories. She has raised approximately $100 million in the quest for cures and enabled important global research initiatives.
Media Integrity Award: "60 Minutes"
CBS News' "60 Minutes" has provided an invaluable contribution to public awareness exposing risks and rip-offs foisted upon vulnerable patients and their families. The two-part "21st Century Snake Oil" investigation of offshore clinics making outrageous claims and luring desperate patients to undertake dubious, possibly dangerous, and unproven "treatments" has educated the public and launched investigations by both the FDA and FBI.
National Advocacy Award: Alliance for Regenerative Medicine
With more than 120 members, the Alliance for Regenerative Medicine (ARM) is a Washington, DC-based multi-stakeholder advocacy organization that develops and advocates for legislative, regulatory, and reimbursement initiatives necessary to facilitate research and commercialization of regenerative medicine products.
Public Outreach & Education Award: Nebraska Coalition for Lifesaving Cures
The grassroots Nebraska Coalition for Lifesaving Cures (NCLC) includes business, education, community leaders, and citizens who support stem cell research in Nebraska. The NCLC is recognized as one of the best-organized and effective grassroots advocacy groups in the United States.
Inspiration Award: Sabrina Cohen
Sabrina Cohen leads the Sabrina Cohen Foundation (SCF), a nonprofit organization dedicated to building a global network of top scientists and clinicians in the field of Regenerative Medicine. Sabrina endured a severe spinal cord injury in 1992 at the age of 14 in a car accident. With her magnetic personality, she has become a national advocate for stem cell research and a mentor to many affected by paralysis. Recently named a SELF magazine 2012 "Women Doing Good" Honoree, Sabrina has been featured in many media outlets, including CNN Headline News, Good Morning America, NPR, The Wall Street Journal, and most recently NBC's Today show.
2011 STEM CELL ACTION AWARD HONOREES
Leadership Award: Sherry Lansing
Sherry Lansing is the former chairman and CEO of Paramount Pictures, current chairman of the Board of Regents of the University of California and CEO of The Sherry Lansing Foundation. She also serves on the Independent Citizens' Oversight Committee of the California Institute for Regenerative Medicine and has made an immeasurable contribution to its success.
National Advocacy Award: Research!America
Research!America is the largest not-for-profit public education and advocacy alliance committed to making research focused on improving health a higher national priority. This organization motivates public support and funding for stem cell research.
Education Award: Let's Talk Science
Let's Talk Science is a Canadian national, charitable organization delivering science learning programs and services that turn children and youth on to science. This organization has taken a multi-pronged approach to help students and educators gain insight on topics surrounding stem cells, including a high school symposium called "StemCell Talks!," hands-on classroom workshops, teacher resources that include a national biotechnology learning continuum, and CurioCity, an online program for teens.
Public Advocacy Award: University of Minnesota Stem Cell Institute
When the Minnesota legislature passed a bill criminalizing certain types of stem cell research, scientists at the nation's first established stem cell institute at the University of Minnesota effectively led a successful advocacy effort to defend this valuable research which led to a veto and the continuation of stem cell research in Minnesota.
Inspiration Award: Grant Albrecht Since having developed a spinal myelopathy in 1996, Grant Albrecht has become a determined patient advocate. He has pursued countless avenues of treatment from the traditional to the alternative and inspires others to chart their own course to rehabilitation and recovery. A highly sought after speech writer and strategic communications coach, Grant worked with Americans for Cures advancing the Prop 71 initiative and presently serves on the Genetics Policy Institute's strategic advisory board. He has spoken to many educational and community groups in his impassioned effort to promote a greater understanding of stem cell science and to help mobilize the Pro-Cures community.
2010 STEM CELL ACTION AWARD HONOREES
National Leadership Award: Michigan Governor Jennifer M. Granholm
Governor Granholm is a long-time champion of stem cell research targeting lifesaving treatments to alleviate human suffering. Since taking office, she has effectively promoted Michigan's biotech industry, which is now one of the fastest growing biotech sectors in the nation. The Governor has specifically targeted the burgeoning field of stem cell commercialization and regenerative medicine as a job creation and growth area for the state.
National Advocacy Award: A. Alfred Taubman
A. Alfred Taubman's visionary leadership has resulted in the establishment of the A. Alfred Taubman Medical Research Institute at the University of Michigan, which is doing innovative stem cell research focusing on developing treatments for ALS, cancer, and a host of other medical conditions. His support for Michigan Citizens for Stem Cell Research and Cures and Cure Michigan made the critical difference in ending the restrictive legislation governing stem cell research in the state.
Education Award: Canadian Stem Cell Network
The Network's extraordinary commitment to public education has made it a model for other stakeholder groups. Some of the projects include the promotion of "Stem Cell Talks" public presentations; the production of a suite of summaries on stem cells, disease and ethics; and scientific support of the web site www.stemcellschool.org.
Grassroots Advocacy Award: Stephen Byer, Barbara Byer and ALS WORLDWIDE Ben Byer's ALS diagnosis in 2002 propelled his parents, Stephen and Barbara Byer, to learn about stem cell protocols and other potential treatments for him and many others. After Ben's death in 2008, they formalized their efforts by launching ALS WORLDWIDE, a not-for-profit organization committed to scientific research interpretation, patient advocacy, and care. Their work toward distinguishing legitimate clinical trials from invalid treatments has had far-reaching influence. Thousands of patient families have benefited from the support ALS WORLDWIDE provides.
Inspiration Award: Laura Jackson
Paralyzed in a cheerleading accident seven years ago, Laura Jackson has become a tireless and effective advocate for stem cell research. This articulate young woman has spoken at dozens of events under the auspices of Michigan Citizens for Stem Cell Research and Cures. She is also nationally recognized as a spokesperson on the issue of cheerleading safety.
2009 STEM CELL ACTION AWARD HONOREES
National Leadership Award: Maryland Governor Martin O'Malley
Since taking office, Governor O'Malley has spearheaded a number of strategic investments in Maryland's bioscience industry. In addition to creating the Life Science Advisory Board, he has been instrumental in securing funding for bio initiatives, including $59 million over three years for Maryland's Stem Cell Research Fund, thereby continuing Maryland's innovative leadership in the burgeoning field of regenerative medicine. He serves as a national example of effective governmental leadership in the field of regenerative medicine.
International Advocacy Award: The Juvenile Diabetes Research Foundation International (JDRF)
JDRF is the global leader in research leading to a cure for type 1 diabetes. It sets the agenda for type 1 diabetes research and is the largest charitable funder and advocate of diabetes science worldwide. JDRF has played a historic role in advocating for new federal funding guidelines for stem cell research and directly funds diabetes research into the use of adult, embryonic, and induced pluripotent stem cells in the pursuit of a cure for diabetes.
Education Award: Michigan Citizens for Stem Cell Research & Cures (MCSCRC)
MCSCRC is dedicated to educating the citizens of the State of Michigan, including public officials and policy makers, about the complex science, biomedical potential and current policies affecting stem cell research in Michigan. In 3 years, the organization engaged in over 300 presentations, 10 radio programs, and 11 cable and television shows for a statewide educational program that reached over 2 million citizens throughout the state.
Grassroots Advocacy Award: Cure Michigan
In 2008, 2.5 million citizens of Michigan voted to protect embryonic stem cell research in the state constitution. Cure Michigan organized this successful ballot initiative campaign and remains Michigan's leader promoting the advancement of state and national embryonic stem cell research and policy.
Inspiration Award: Margaret Conn Himelfarb
Margaret, whose son has type 1 diabetes, has worked tirelessly and effectively to promote stem cell research. She founded the coalition Maryland Families for Stem Cell Research and led the statewide grassroots campaign for stem cell research funding. She serves on the Maryland Stem Cell Research Commission, the Johns Hopkins Embryonic Stem Cell Research Oversight Committee, and JDRF's International Board of Chancellors. A legendary advocate for JDRF, Margaret spearheaded the successful national campaign for a Diabetes Awareness postage stamp.
Inspiration Award: John L. Kellermann, III
John has courageously battled Parkinson's disease with his characteristic resilience and courage. He made an important leadership contribution to the grassroots organization Maryland Families for Stem Cell Research. An exemplary and inspiring voice for patients and their families, John testified both in Annapolis and Washington in favor of stem cell research. He serves is a member of the Maryland Stem Cell Research Commission.
2008 STEM CELL ACTION AWARD HONOREES
National Leadership Award: Wisconsin Governor Jim Doyle
Governor Doyle is a stalwart and courageous supporter of stem cell research and a proponent of Wisconsin's strategic goal to invest $750 million in biotechnology and stem cell research. Outspoken and eloquent, Governor Doyle is a leading spokesperson for the advancement of potentially lifesaving discovery.
National Advocacy Award: Christopher and Dana Reeve Foundation
Carrying on the legacies of its founders, Christopher and Dana Reeve, the Foundation continues to be a significant leader in the world effort in support for stem cell research. Through its effective education, outreach, advocacy, and funding support, the Foundation brings us closer to finding a cure to paralysis through the study of stem cells.
Education Award: National Association of Biology Teachers
For the last 70 years, this non-profit association has served over 9,000 teachers, upholding scientific integrity and fighting for the right to teach accurate and current science without penalty from political or religious influence on content.
Inspiration Award: Brooke Ellison
Brooke's heroic struggle and message of hope after a devastating injury left her paralyzed has inspired millions, as chronicled through her book, a movie, and in an upcoming documentary to be premiered in September. She has founded The Brooke Ellison Project  dedicated to the advancement of stem cell research.
Grassroots Advocacy: Ben Kaplan
Ben came onto the stem cell scene in a compelling promotional piece in support for California's Prop 71. Ben was born with cerebral palsy, a fate not shared by his twin brother. He is a grassroots leader of the first rank, and his ongoing creation "Ben's Stem Cell News"  is where many advocates obtain the very latest online progress report from the front lines of science, regulation and politics.
2007 STEM CELL ACTION AWARD HONOREES
Michael J. Fox Parkinson' Action Network Dr. Ralph Dittman Missouri Coalition for Lifesaving Cures
2006 STEM CELL ACTION AWARD HONOREES
Bob Klein Hadassah Don Reed Student Society for Stem Cell Research Luca Coscioni Association
2005 STEM CELL ACTION AWARD HONOREES
Danny Heumann Coalition for Advancement of Medical Research Texans for Advancement of Medical Research